At work we always specify Franke sinks. However... Franke sinks typically have a price tag that is out of our small budget. I looked at a lot of sinks at Lowe's and Home Depot, but they all looked or felt cheap. Or they were just ridiculously expensive and I could not justify paying that for a Kitchen sink. Not when there were so many other things I needed!
That was when I discovered a small sister company of Franke. Kindred. They're basically Franke sinks, but with slight differences, such as the stainless steel gauge. I found this one at Lowe's, but unfortunately our local store didn't have any in stock. That lead me online, where I attempted to find the best deal.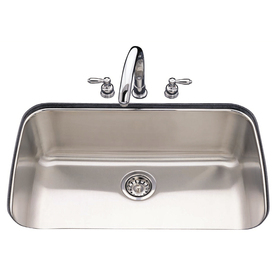 I ended up buying the sink from
www.homeperfect.com
for $105 (including shipping). Lowe's had it listed for $292 (plus tax)! So glad I looked online! The sink arrived in perfect condition (so glad, after the faucet debacle), and we handed it off to Renaissance Stone for installation. Renaissance did a great job installing.. leaving a perfect overhang of granite over the sink. In our apartment we had granite countertops and an undermount stainless sink, but it wasn't installed correctly. There was a stainless steel lip that was visible between the granite and sink where dirty food gunk (for lack of a better word) would loge itself. It was nasty and very hard to clean.
Here's the specifics on the Kitchen Sink:
Manufacturer: Kindred
Retailer: HomePerfect.com
Model: Single-Basin Stainless Steel Undermount Kitchen Sink (USSK100-18)
Finish: Stainless Steel Mirror Finish
Price: $105
Review:
This sink is gorgeous! The mirror finish gives it a nice shine. It seems so much bigger (wider and deeper) than I had imagined! I love it! And you can't beat that price... $105 for a huge sink! Kindred offers a lot of additional products that fit the sink such as strainers, cutting boards, etc. that I may take them up on.
Lesson I learned with this purchase? Always shop around!